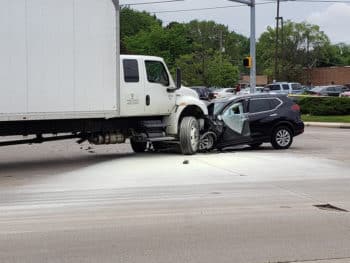 Commercial truck accidents are different from crashes that involve only passenger cars, in part because a trucking company usually employs the truck driver involved in the wreck. As the trucker's employer, the trucking company (also known as a carrier) may bear legal responsibility for the truck drivers' actions, as well as for the safety of the trucks it owns. In addition to a truck driver and the carrier, several other parties may be liable for a truck accident. This is why an attorney can help. An experienced truck accident lawyer can investigate your accident to determine its course and based on the evidence, who can be held accountable. There are a number of things that can contribute to a trucking accident and because of that, a number of people may be held liable.
Causes of Trucking Accidents
There is a variety of data that should be reviewed after a commercial truck accident to determine what happened and who all may be legally responsible for the crash. Accident commonly results from the following…
Improper loading can cause an imbalance in the trailer that increases its chance of a jackknife or rollover accident.
Distracted driving, may involve texting, eating, smoking, and other distracting activities while driving.
Reckless driving things like speeding, improper lane changes, or tailgating.
Negligent hiring, in which the truck company was careless in selecting a qualified driver.
Fatigued driving, if a driver has violations of the FMCSA hours of service regulations.
Drug or Alcohol, making the truck driver less aware of their reactions to avoid a collision.
Truck maintenance, negligence in properly maintaining the truck.
Investigation of Key Evidence
The liable party or parties can be revealed through the investigation of the accident.
Was the driver driving in a careless or reckless manner?
Was there a third party involved and for any other action that contributed to or caused the accident?
Was there a failed mechanical action to keep the vehicle in safe working order?
Was the trucking company negligent in hiring or failing to perform a drug test on the driver?
If an investigation shows that several parties may be held liable for a truck accident, victims may be able to maximize the compensation they obtain for their losses through multiple claims. If you have been injured in a trucking accident in Kentucky, you should contact an experienced attorney as soon as possible. Truck accident attorneys know how to investigate truck accidents fully and how to develop solid cases against negligent truck drivers, trucking companies, manufacturers and distributors, vendors, and other third parties. They will work diligently and aggressively to maximize compensation from all available sources.
Contact us (859-341-2500) for a Free Consultation!
—
About Grubbs & Landry
At Grubbs & Landry, PLLC, we are dedicated to personal and friendly service. We manage our practice in an ethical, cost-effective manner to best help our clients resolve their legal issues with the least expense possible. We pride ourselves in advocating for our client in divorce, child custody, and child support matters as well as other family law matters. We are active in prosecuting personal injury cases-recovering for the injuries our clients sustain due to the negligence of others. Additionally, we help our clients prepare for the future through the preparation of Wills, Power of Attorney and Living Will.
>> Learn More